Returning To Holiness
Home
>
Featured
,
News & Events
> Returning To Holiness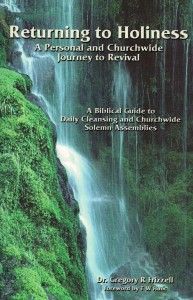 "Returning To Holiness" Bible Study starting Wednesday Feb 29th
    How awesome to read of the past Great Awakenings where numbers equaling ten percent of entire national populations were saved in less than a year! The burning question is, "How can we see another great spiritual awakening?" Certainly prayer is crucial and evangelism is required. Yet according to God's Word, prayer and evangelism must be combined with a profound return to holiness and spiritual cleansing (2 Chronicles 7:14; Isaiah 59:1-2; Joel 2:12-14). This is the key element so missing in today's church! Alongside the exciting new strategies for prayer and evangelism, we must now see a return to utter humility and holiness before God. That is precisely the purpose of Returning to Holiness. By God's grace, we can return to Him.