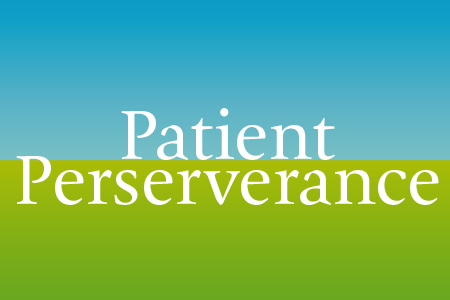 Patient Perseverance 

"Let us not become weary in doing good, for at the proper time we will reap a harvest if we do not give up."  Galatians 6:9

Patient perseverance is required to see the fruit of your labors. It takes time to penetrate hard hearts and to influence those outside the faith. Family members can be especially difficult to love. This is why you have the family of God to serve and to love. Sometimes you feel closer to your family in Christ than you do your biological family.This can be discouraging, but do not take it that way. Rather, accept the fact that blind people grope in the darkness and need special attention. They are very limited and may be incapable of giving any direction or unselfish leadership. This is the nature of their condition. You will be continually disappointed if you expect non-Christian family members to bend toward your interests and desires.For instance, you have an event that means the world to you, such as the graduation, birthday or marriage of a child. Do not expect an unbelieving relative to care. They are self-centered by nature. This is how they live life every day. It is a chore and a burden for them to give. They are oblivious to the need for celebration of this momentous occasion for you and your loved ones.

Indeed, they are rejecting you by their absence. But you can let go of this hurt. Like a helium-filled balloon, release it to heaven. Let go of this offense and give it to your heavenly Father, who certainly understands. Non-Christians act like non-Christians. So do not be surprised. But you know better—you will continue to do good because it is the right thing to do. You will reap a harvest, though the reward of its fruit may be stored in heaven!

So, you still serve even when you are not served. You still love even when you are not loved. You still forgive even when you are not forgiven. You still celebrate important occasions even when your important occasions are ignored. You still listen even when you are not listened to. You still care even when you are not cared for. This can take its toll in wearisome service and giving. But do not give up—the Word of God will make a difference. Your life is making a difference. God is using you in ways that you currently cannot comprehend.

Others are watching your unselfish acts of kindness. Your children especially are watching. They are defining patient perseverance by the number one influencer in their lives. Stay in the giving process for their sake. Stay in the game for God's sake. Ultimately it is all about Him. You remain unselfish for Him. You stay others-centered for Him. You give because Christ gave. You forgive because Christ forgave. It is all about being a good citizen in His Kingdom. Patient perseverance has nothing to do with demanding your way in your kingdom.

Moreover, as you stay the course in good deeds, it leads others to Christ. This is the end game. This is the purpose for patient perseverance, so that others will see your good works and glorify God in heaven. You will probably be taken advantage of, yet it's all for the praise of our Lord.